Hi, my name is Claire Cerne and this is my blog for the summer of 2020. I am a student research assistant for Greg Wiles at The College of Wooster. This blog is dedicated to highlighting research topics throughout this summer. I am working alongside another classmate to help analyze tree ring data and educate a group of young scientists living in Hoonah, Alaska.
Before the stay at home order due to the COVID-19 pandemic, Dr. Wiles, and Dr. Ben Gaglioti and Dr. Dan Mann of the University of Alaska, Fairanks, and several students and I had plans to visit Alaska. I would be going to Dagelet Glacier, on the Gulf of Alaska's outer coast to collect tree ring. We were planning on taking a two-week trip (weather permitting) that would have been in the late May/ early June months. Unfortunately, this trip had to be canceled.
After the plans fell through, Dr. Wiles offered me and another classmate, Julia Pearson, a position for the summer that would focus on science education. We would work with the TRAYLS group in Hoonah, Alaska who are interested in studying the forests, terrestrial and marine environment around their town. We would work with the group to add to their lesson plans with presentations and supply them tree-ring data. In our first Microsoft Teams meeting, we started with introductions, the basics of dendrochronology, and how to core a tree. The TRAYLS group has begun the tree coring process and once this is complete, they will be sending the cores to The College of Wooster. The cores will be scanned and we will begin analyzing them and developing them into ring-width series. After this is complete, we will relay the information about the trees they collected cores from. In the meantime, Julia and I will give access to maps and presentations to teach the group about topics like the Little Ice Age, what happens to a tree when it is stripped, and the story of Glacier Bay.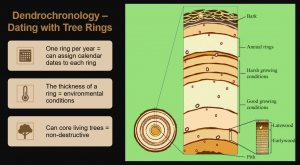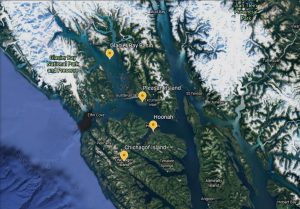 This summer research position heavily relies on Microsoft Teams meetings, shared Google slides, and an open schedule for meetings during the week. Communication is key in this process and I am learning how to better communicate like asking more about certain topics or where I can find information if I get stuck. We had a meeting with one of Wooster's science librarians, Zach Sharrow, to help us find academic sources from home. I have also had to learn to be more independent while working from home, how to create a work environment, and a create schedule that works with the rest of my family's schedules. Adapting to working at home will be a summer-long process but with the support of Dr. Wiles and Julia, we will make an awesome final product with the TRAYLS group.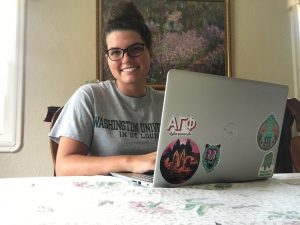 This work has been funded in support by the National Science Foundation. The grant is the AGS 8001184 –RUI: Collaborative Research: Extending key records of Holocene climate change and glacier fluctuations in the North Pacific region using subfossil wood from Southeastern Alaska.